LUCIA FESTIVAL
9 • 10 • 11 December 2022
CANGO Cantieri Culturali Goldonetta,
Via Santa Maria 25, Firenze.

LUCIA is an international festival dedicated to the listening of radio works and podcasts.
It is a celebration of the art of storytelling without images.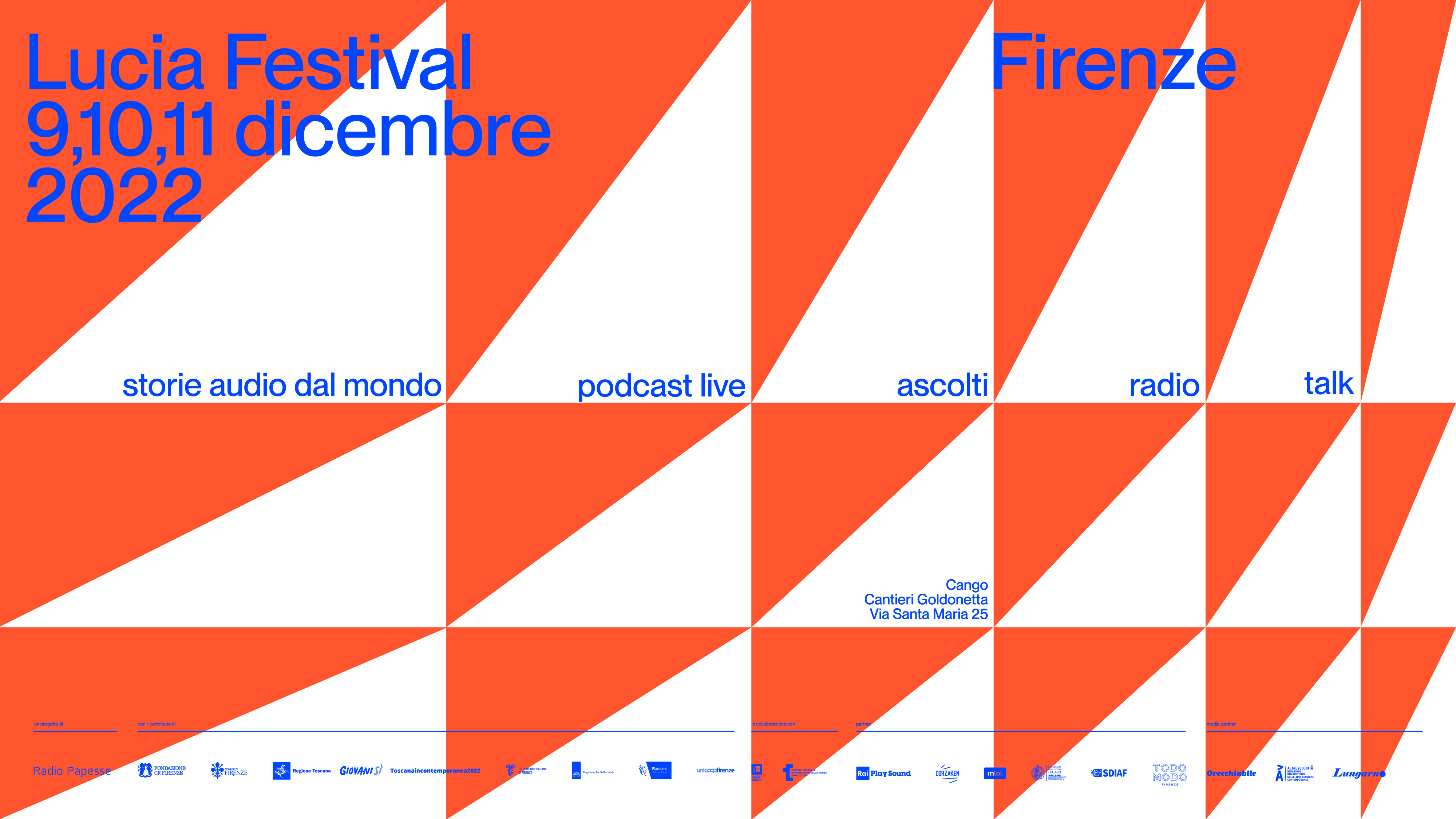 We are glad to welcome and present audio works by: Talia Augustidis, Pauline Augustyn, Chloe Barreau e Lilith Primavera, Giorgio Bandini, Sara de Monchy, Camille Descroix, Erica Heilman, Nanna Hauge Kristensen, Le Collectf Wow!, Lieselot Mariën, Eva Moeraert, Martina Melilli & Botafuego, Ariel Mejia, Phoebe McIndoe, Mauro Pescio and Alice Pontiggia.

In addition to listening sessions, LUCIA is also a calendar of live performances, sensory warm-ups, meetings with authors and audio makers. It will open on Friday December 9th with Listening Kids, a seminar dedicated to podcasting and audio storytelling for children.

The program is available online, on luciafestival.org.
Lucia Festival is curated by Radio Papesse and is possible thanks to the support of Fondazione CR Firenze, Comune di Firenze, Regione Toscana Toscanaincontemporanea 2022, Città Metropolitana di Firenze, Kingdom of the Netherland, General Representative of Flanders in Italy, Unicoop Firenze. In collaboration with: Fondazione Archivio Diaristico Nazionale and Cango Centro nazionale di produzione Virgilio Sieni. Partner: RaiPlay Sound, Oorzaken Festival, FORLILPSI • UNIFI, SDIAF Sistema Documentario Integrato dell'Area Fiorentina, MLOL, Todo Modo. Media partner: Orecchiabile, Altrevelocità.